It's been a few weeks since the moon's shadow raced across the continental United States at 1400 miles an hour, providing many with a once-in-a-lifetime opportunity to view a total eclipse. The next one in the continental United States will be April 8, 2024. I'd like to pass on a few things we learned traveling to this one.
Plan ahead…WAY ahead. In January, the University of Illinois at Urbana-Champaign organized a bus trip to Goreville, IL, the epicenter for Illinois, that sold out early. Hotels around the area sold out early as well; closest place I could find a room a couple of months before the eclipse was in Mattoon, about 150 miles north of Carbondale. Southern Illinois University was offering last minute lodging in dormitory rooms, or a 10' x 10' space in the Student Recreation Center, for hefty prices. The 2024 eclipse will also pass through Carbondale; you can watch the university's countdown clock. Only 2400 more days give or take.
Get eclipse glasses early because they sold out quickly and make sure they are certified for eclipse viewing.  Amazon had to recall glasses which lacked certification, prompting at least one lawsuit for permanent eye damage.. Chicago's Adler Planetarium distributed more than 250,000 pairs in the few weeks prior to the event and had 30,000 available that day. Plastic glasses that go over corrective lenses are likely to be less awkward than the mass produced cardboard and film ones. And no, putting sunscreen in your eyes isn't a substitute.
Take the road less traveled. Interstate 57, the direct route to Carbondale from the Chicago suburbs, was slow going from Kankakee on Sunday, August 20. We left it just south of Kankakee at US 52 and drove the back roads through the heartland, passing through obscure towns (to suburban dwellers like me, anyway) like L'Erable, Crescent City, Woodworth, Cissna Park, and Rankin.
IL-49 becomes North 2nd Street as it cuts through the heart of Cissna Park. There's a small public park on the west side facing the Cissna Park State Bank, The Ivy Arbor and the True Value Hardware Store on the east. We stopped on a side street across from the Post Office for a preemptive bathroom break.  It was warm, even under the shade of the trees, and quiet. Very quiet. None of the traffic noise to which I've tried to become immune. No barking dogs or shrieking children. A faint breeze rustled the leaves but the town appeared all but deserted.
Silence like that should be welcomed, not feared. It allows one to think, to become more aware of how small our existence can be. I am jealous of those people, but I imagine the few younger people living there can't wait to head out to "civilization." Be careful what you wish for; there will come a time, decades ahead, when you'll wonder why you were so eager to leave.
Traffic was much worse on Monday the 21st. We took IL-16 west out of Mattoon then US-51 south to Vandalia, where we stopped at McDonald's for another potty break and drinks. My wife overheard a woman saying the part of her family that decided to take I-57 was just sitting in traffic.  We drove west on I-70 to Greenville, IL, then south on IL-127 to Nashville, where traffic from the I-64 exit slowed us to a crawl. So, we turned off at the first country road and hightailed it down the back roads along with a few other savvy travelers to Sparta, a good fifty miles from Carbondale, but still in the sweet spot for viewing.
Google Maps was working overtime and finally gave up the ghost about 11am. It wouldn't be functional until well after totality.
Plan liquid intake and disposal very carefully if you are an old guy with BPH and a nagging wife.  Peg takes a dim view of the time-honored guy tradition of pulling off to the side of a country road and whipping it out. We stopped at one gas station where ten people were waiting for one bathroom; I ended up going in an empty iced tea bottle. Either stop for breaks often or wear adult diapers and avoid the "why didn't you stop sooner" lecture.
Look for rural viewing sites. Sparta's City Park was full, but we found a small park south of town with parking for about 20 cars. There was a nice breeze, and plenty of room to watch the moon slowly overtaking the sun.  Thousands of miles of county roads form a grid around the cornfields in Southern Illinois and the population density is very low. Arrive early and bring something to eat and drink. We stopped at Sparta's Wal-Mart before looking for a spot.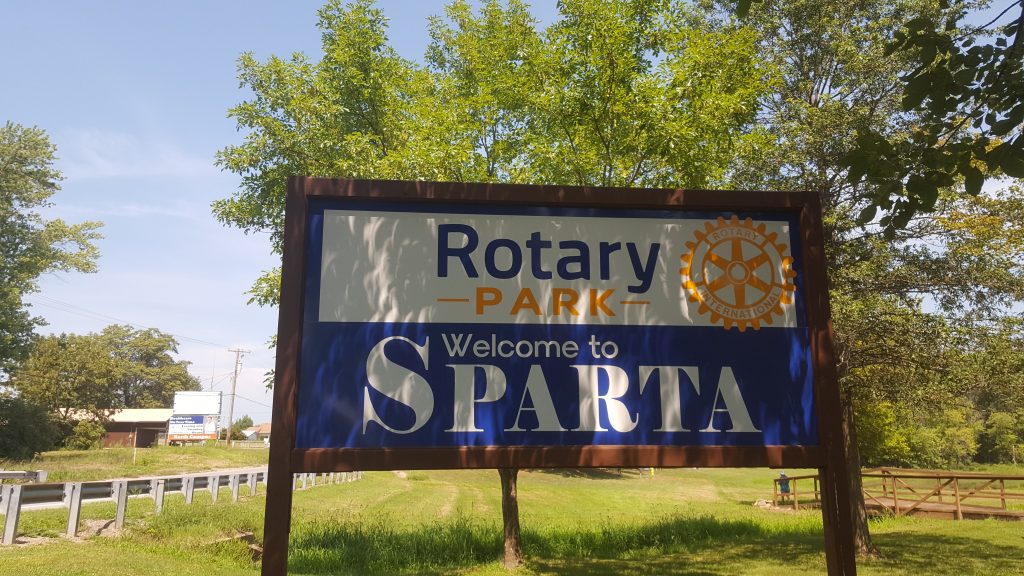 Take something to sit on. I'd forgotten the folding chairs I'd planned to take, so we sat on the landscaping stones surrounding the park's sign.  One old guy sat in his car with his wife, with the engine and air conditioning running for over an hour. Yeah, gas was $2.09/gallon, but it's still a waste.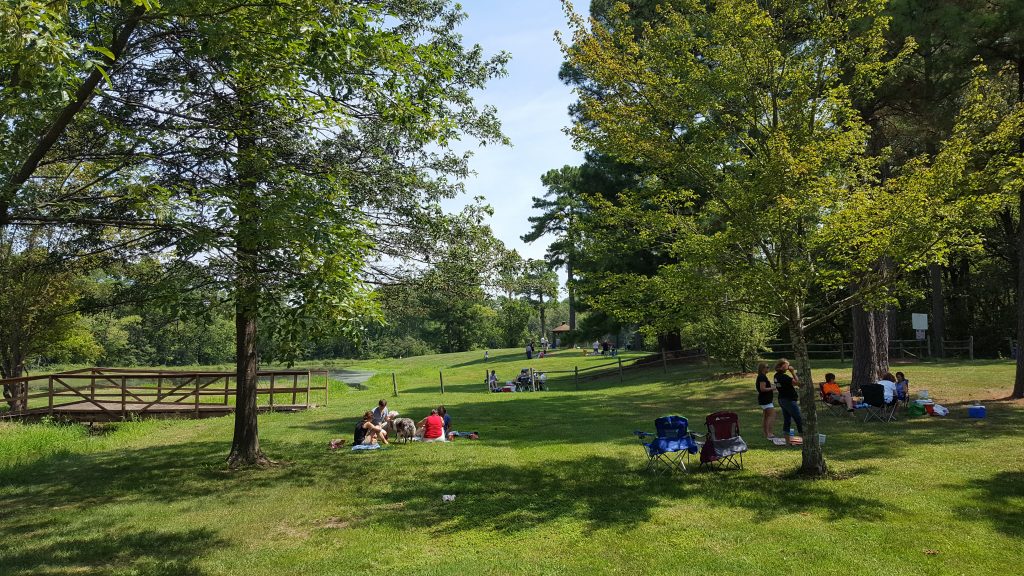 Go a few days early and stay a day or so after.  If you have the time, plan on getting to your destination a few days before the eclipse and stay a day or two after.  We'd planned on driving to Springfield immediately after the eclipse as I had to work a hospitalist shift two days later. Sparta has a nice Holiday Inn Express and it would have been nice to avoid the mass exodus
Most people left right after totality, caravaning up country roads with stop signs or a blinking red light at major highway intersections. We alternated between several mile backups and racing to the next backup. It never occurred to the local cops or county sheriffs to direct traffic for a few hours; I would not have thought of it, either. A normally 2-hour drive turned into four. Luckily our exit into Springfield avoided the sluggish merge of I-72 and I-55.
If you want pictures of the sun before totality, get a filter.  Remember burning leaves with a magnifying glass when you were a kid? A telescope is just a more expensive and powerful version. Our local news station showed what happens to a camera attached to an unfiltered telescope: the mechanism was smoking when it was detached.
Taking a picture through eclipse glasses was awkward and futile. If you want to try this, bring along tape to secure the glasses to the lens.
Turn off your camera's auto-correct. I tried to get shots of the fading light but the camera on my phone compensated enough to make my pictures useless for comparison. Here's a side-by-side, using computer wizardry to uncorrect my shot.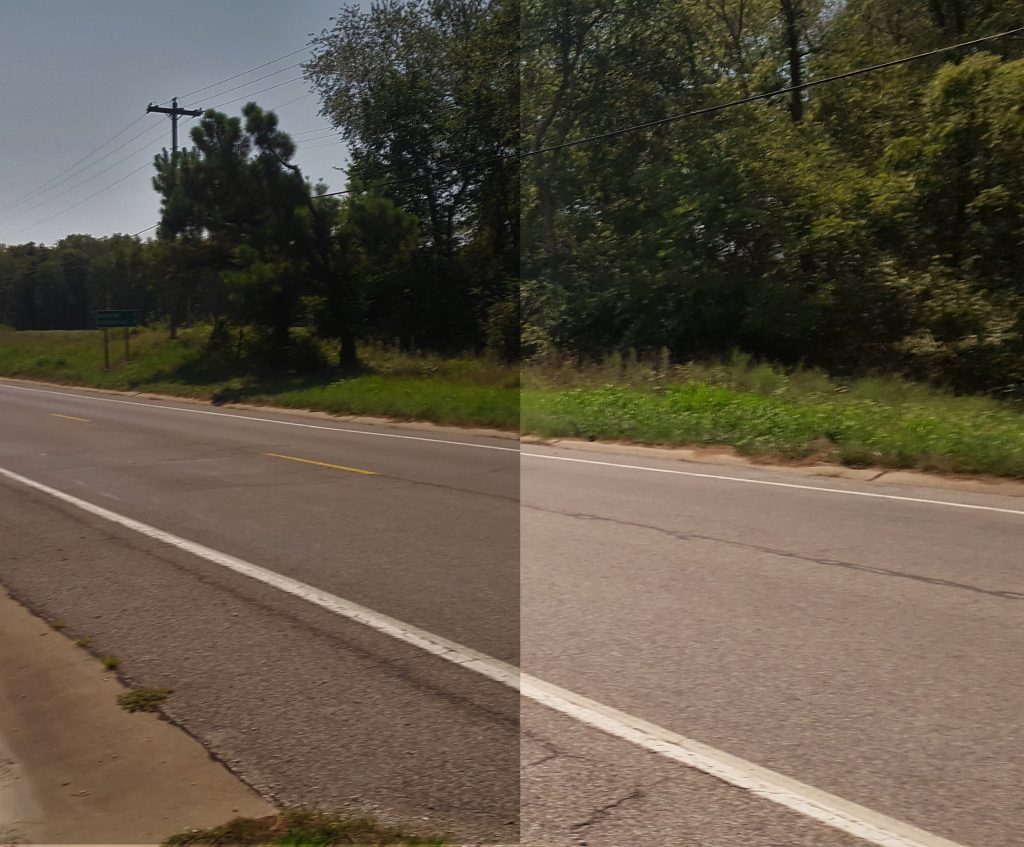 The eclipsed sun is actually very small. Those magnificent pictures you see are taken through telescopes with high-end cameras and filters. The moon was smaller than I anticipated and one cannot see much of the corona with the naked eye. A pair of binoculars would have been handy.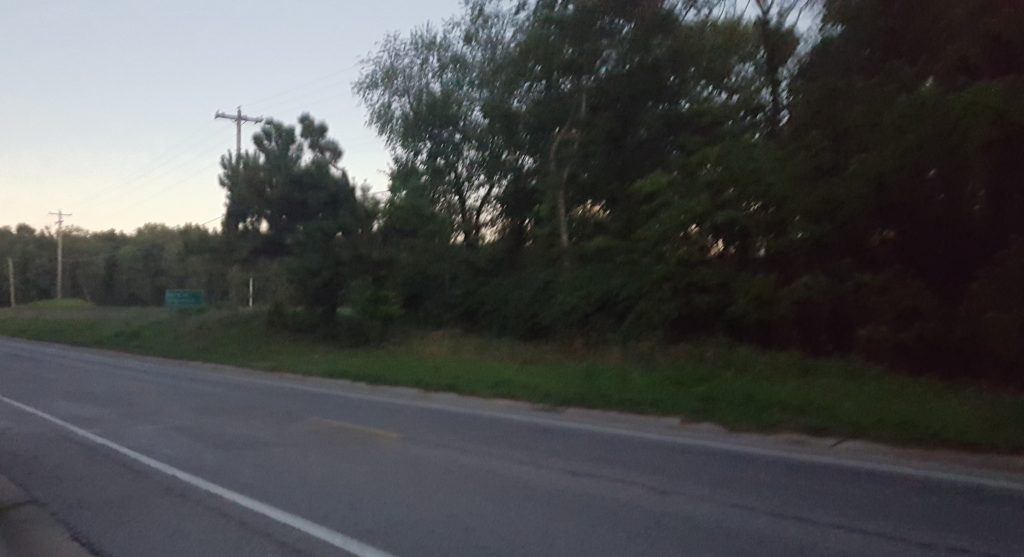 The all-around sunset is spectacular. No, it does not get pitch black; it's more like dusk. It's dark enough to trigger street lamps and the cicadas started chirping but it's still a thrilling experience. WGN's chief meteorologist, Tom Skilling, sobbed when it finally happened.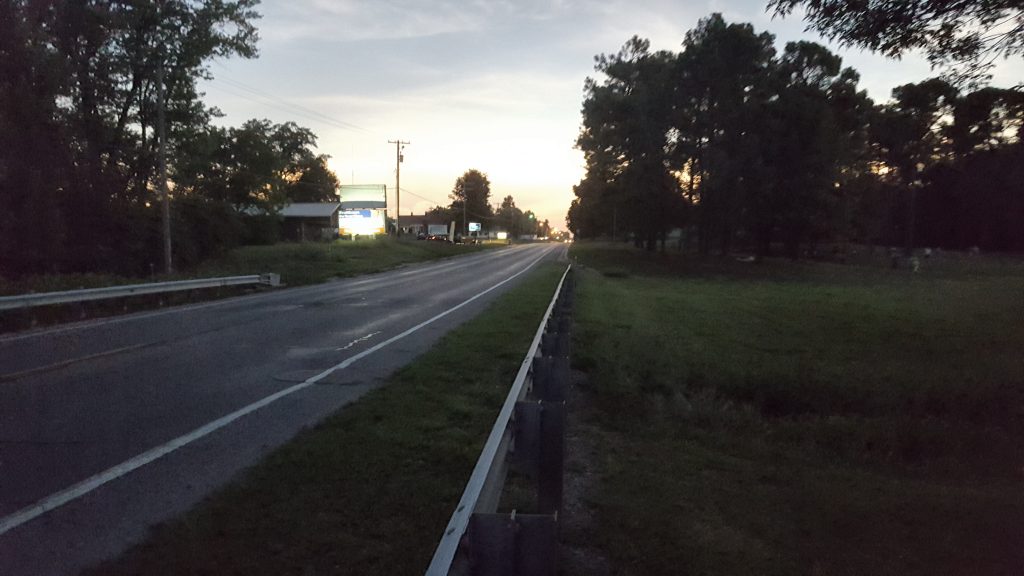 Bonnie Tyler sang "Total Eclipse of the Heart" on a boat somewhere off the coast of South Carolina. I thought Pink Floyd's "Eclipse" was more appropriate, so enjoy.