Some of us really hate "the most wonderful time of the year."
It is difficult, no, it is impossible to explain our aversion to Christmas to anyone who hasn't struggled during the holidays. We are likely to hear, "Whassamatta wit' you? It's Chris'mas, fer Chrissake! Stop being such a downer and get into the spirit!"
"…Crappy toys flying off the shelves
Midgets dressed up to look like elves
Spread good cheer or burn in hell…"
Denis Leary (1)
It wasn't always this way for me. I looked forward to Christmas when I was a kid, especially the smell of a fresh-cut tree permeating the house with a scent that we enjoyed but once a year. We'd buy a tree from the stand some local fraternal organization had erected in a parking lot, then haul it back home. My parents struggled to get it into that rusting metal tree stand without losing too many needles, and then adjust the crooked trunk until the tree was as straight as possible.  We'd untangle the lights and clip them to the tree branches, sometimes swapping screw-in bulbs to balance the colors. Finally, we'd take those fragile glass ornaments from their thin cardboard boxes, shake a wire hanger loose from the pile and carefully put them on the tree, hoping they would all survive until January.
But things changed. The details aren't important; let's just say I cringe when I hear John Denver singing Please Daddy Don't Get Drunk This Christmas.  It got worse after we moved from Arizona, where everyone was pretty much on the same socioeconomic plane, to the Midwest where I discovered the haves and have nots. That the sun disappeared behind endless grey skies between November and April exacerbated my own depression.
One dismal winter day in 1974 I found "The Death of Christmas: Interviews with forty-three survivors," in the bargain bin at Follett's Bookstore, across the street the University of Illinois Urbana-Champaign.  The proceeds from this 1971 book raised funds for the Neediest Children's Christmas Fund in Chicago. On the cover a sad black Santa with an empty toy sack stood in the snow before three poor urban kids, a heartbreaking sight. The title page featured this illustration (2) by John Fischetti, an editorial cartoonist for the now-defunct Chicago Daily News.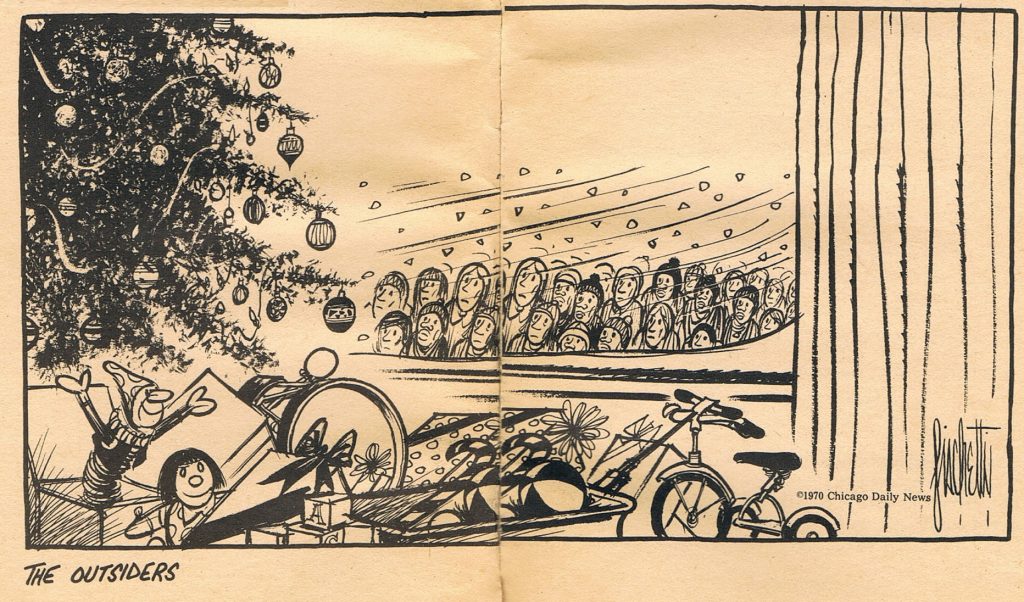 A quote from one of the "survivors" summed up my feelings: "Christmas is for the rich to enjoy, the middle-class to imitate, and the poor to watch."
A few years later I was walking down Michigan Avenue in Chicago one miserable December evening for reasons I've long forgotten, as I certainly didn't have the kind of cash one needs to shop there. People hurried along the sidewalks like salmon rushing upstream to spawn. Women in furs. Businessmen in overcoats and severe looks. All the stores windows were brimming with faux Christmas cheer—the kinds of decorations no ordinary family would even think of buying—enticing the wealthy with diamonds and furs. "If you have to ask, you can't afford it."
A young woman sat on the cold concrete, leaning up against the marble front of a jewelry store, eerily illuminated by a light above the display window. She was rocking a young child wrapped in a thin blanket. The child's mouth was open in a silent cry – I suspect the little girl may have suffered from cerebral palsy. A small container with a few meager coins lay at their feet. People passed them by without a glance and my heart ached at the wretched scene. I stood looking at them for a few moments, feeling helpless and confused. I don't remember giving her any money; I think I was too shocked and ashamed. I've never forgotten that little scene from more than forty years ago.
The approaching holiday season triggers a predictable emotional sequence: annoyance; irritation giving way to righteous anger; resignation, relief when it's all over followed by the post-holiday despondency. I'm annoyed when Home Depot and Costco start stocking Christmas decorations and crap in September. At least they have the decency to not play Christmas music until a week or so before Thanksgiving.
Then there's Black Friday. The day after professing gratitude for friends and family, a roof over one's head, and more than enough to eat, people get into fistfights over crap that will lose its appeal a few weeks into the New Year. I detest the term "Doorbusters," which conjures a stampede of desperate peasants trying to buy their way to happiness, unaware they are being shamelessly manipulated by corporate overlords with far more money than they will ever have.
My irritation grows in direct proportion to the frequency of overly precious Christmas advertising on television and blossoms into righteous anger by late November when car commercials outnumber all others by about ten to one. Nothing captures the true meaning of Christmas like buying your spouse a luxury SUV wrapped in a gigantic red bow and telling your Yuppie kids some bullshit story about how Santa delivered it.
The post-Christmas crash follows the buildup to Christmas Day. It's the hangover from the night before, except that night was six weeks in the making. Dried-up trees litter the curbs and dumpsters overflow with cardboard boxes and torn wrapping paper. Stores fire sale their Christmas crap up to 90% off, which gives one an idea how much it was worth in the first place. Wal-Mart starts stocking Valentine's Day cards before New Year's Eve. The college bowl games and the Superbowl are often anti-climactic, and I never liked basketball. Football pre-season is eight long months away.
I made a conscious effort to suppress my inner Grinch when I became a father. I didn't want my kids to have the same dismal holiday memories I had, and I think it worked out reasonably well. (One year the oldest got a pair of pliers to pull the bug out of his pre-teen butt.) Still, the first time I read them The Polar Express I lost it at the end when Billy reflects: "At one time, most of my friends could hear the bell, but as years passed, it fell silent for all of them. Even Sarah found one Christmas that she could no longer hear its sweet sound." (3)
My son asked, "Why are you crying, Daddy?"  You'll figure it out in about twenty years.
I've made my peace with Christmas. I take delight in the little things. Classic Christmas albums by Andy Williams, Nat King Cole, Johnny Mathis and the incongruous duet with Bing Crosby and David Bowie. Christmas movies like White Christmas, Miracle on 34th Street, and Die Hard.
The guy in the neighborhood who spells BAH HUMBUG on his roof in rope lights. (I wanted to put an inflatable Grinch on the roof, but Peg promised to shoot it full of holes). The look on the Chreasters'(4) faces when they show up at 12:15 a.m. for the Christmas Eve "midnight mass" that's been starting at 11p.m. for at least thirty years.
Christmas Day is becoming more like Thanksgiving – dinner with family and friends, wishing all peace and good will, and trying not to be a dick in the coming year. Getting stuff isn't important; being with those you love is the best gift.
Many still find very little to celebrate around the holidays, but some churches have stepped in to fill the void.  During the 1980's the British Columbia hospice community started "Blue Christmas" services which have since spread to churches.
"…The idea of Blue Christmas is to acknowledge the darkness, and let it be dark. That is a quietly revolutionary act in an optimism-obsessed culture that would pressure even the Little Match Girl to look on the bright side. Some churches refer to the event as the "Longest Night," because many services take place on December 21, the winter solstice, when the sun stays hidden longer than it does on any other night of the year. The structure varies widely, but common motifs include candles, music in minor keys, periods of silence, and time to privately share specific sadnesses and fears (say, by writing them down and placing them on a "tree."). …" (5)
If you can still hear the bell, you are indeed blessed. Please say a prayer for those for whom hope remains elusive.
It's a Merry F@#%in' Christmas (C) 2004 Denis Leary
"The Outsiders" (C) 1971, John Fischetti. Used with permission.
Text from The Polar Express (C) 1985 Chris Van Allsburg.
Chreasters: occasional Catholics who show up only on Christmas Eve and Easter, largely out of some subconscious obligation to the memory of long dead relatives who will chew their asses once they reach Heaven.
Graham, R. "Blue Christmas Services Honor the Dark Side of the Season". Slate, December 21, 2016. Accessed on December 7, 2017.