To everything there is a season and to every season there is music. Memorial Day Weekend kicks off the summer season. Here's my list of tunes for the hottest time of the year. Be sure to check out the L.A. Woman video.
Summer in the City – The Lovin' Spoonful. This was one of the first songs I heard on AM radio after emerging from the cultural isolation of small-town Arizona. The minor chord was unsettling; the jackhammer and '60s car horns, unforgettable. The windows were open at night because we didn't have air conditioning and I could hear the rumbling shock wave of railroad cars coupling in the big train yard by the glass factory. Those were good factory jobs – allowed a lot of people to buy homes. 

Chain of Fools – Aretha Franklin. A cloudy, sultry summer night. There's lightning in the distance near Chicago. The static interrupts the Queen of Soul as she sings I ain't nothin' but your fool / You treated me mean / Oh you treated me cruel.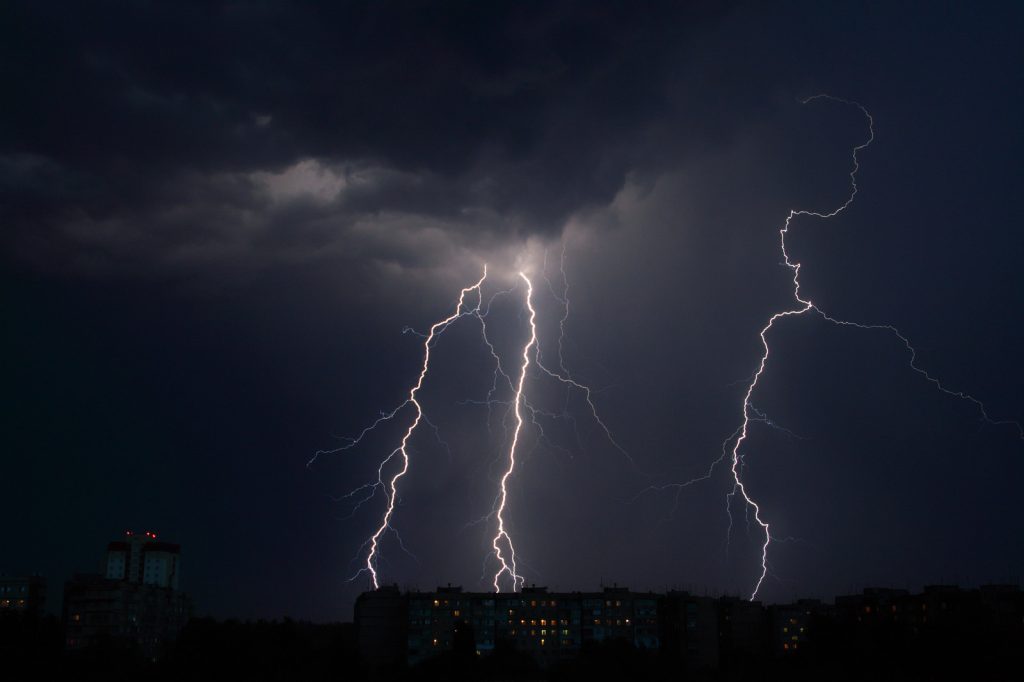 Pleasant Valley Sunday – The Monkees. "Another Pleasant Valley Sunday / Charcoal burning everywhere." Kids running around the grass barefoot; dogs and burgers on the grill; the grown-ups in lawn chair with cans of Falstaff. Things would go to shit within a year – ghettos exploding; the cops going berserk in Grant Park in '68 and a war that would take 58,000 sons and daughters.
Sunshine Superman – Donovan. Midsummer. A 1930's era bungalow with the windows wide open for a breeze. A mother in a black floral print pinafore apron, the kind with the frill around the arms, presses clothes with a heavy Sunbeam Ironmaster, the one with the black handle and the braided cord. She dampens the clothes with water from a glass pop bottle corked with an aluminum sprinkling head. That's the image I see when I hear this song.
Bad Moon Rising – Creedence Clearwater Revival. High school kids in our rural Illinois town made money during the summer break by detasseling corn.  This is one of the songs they listened to in the car on the way to the fields.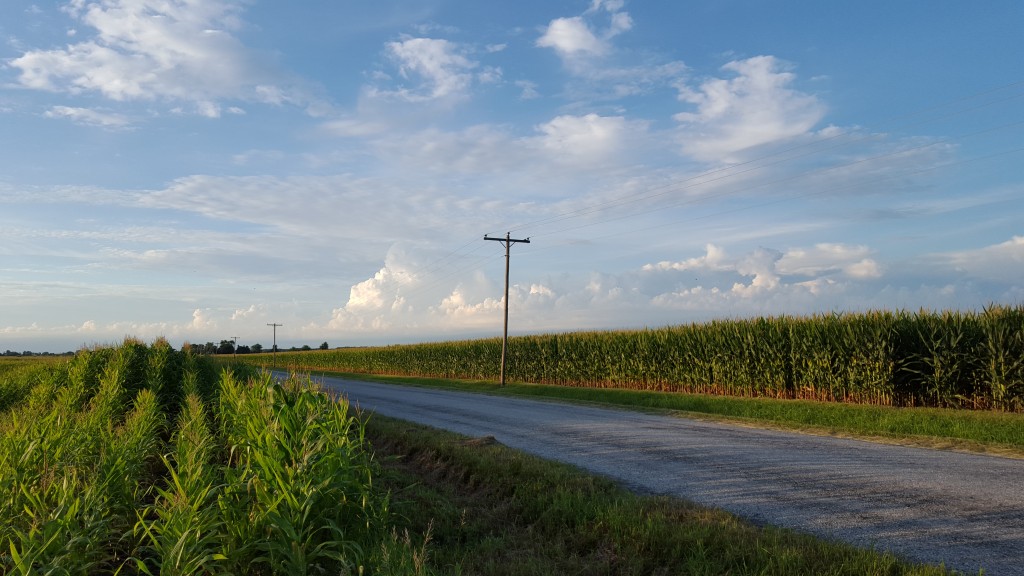 Twistin' By the Pool – Dire Straits.  In 1963 our parents listened to Nat King Cole sing Those Lazy-Hazy-Crazy Days of Summer. Twenty years later we listened to this with our kids. Sunglasses, bathing suits and the Euro beat. Annette and Frankie would fit right in.

School's Out – Alice Cooper. Back in 1969 our parents thought Alice Cooper was dangerous. I should have known something wasn't right when The Jet Song from West Side Story showed up on the third track. This son of a preacher man is a Republican, lived in Phoenix next to Barry Goldwater and gave up booze for golf (he has a four handicap). He's been faithfully married to the same woman since 1976.

L.A. Woman – The Doors. Drivin' down your freeways / Midnight alleys roam / Cops in cars, the topless bars. The dark side of the City of Angels.
Hey Frederick – Jefferson Airplane. Nicky Hopkins' emphatic piano, Jorma Kaukonen's piercing guitar, and Grace Slick's sultry voice and erotic lyrics caressed my adolescent anger. Nicky has been gone 22 years; Grace and Jorma are now in their mid-70s and I'm a grandfather.
Blows Against the Empire – Paul Kantner/Jefferson Starship. This Hugo Award nominated concept album featured David Crosby and Graham Nash, the Grateful Dead's Jerry Garcia, Bill Kreutzmann and Mickey Hart, and David Freiberg from Quicksilver Messenger Service along with Grace Slick, Jack Casady and Jorma Kaukonen's younger brother Peter. It was a story of counter-culture people hijacking a starship and traveling out of the solar system in search of Utopia. Almost half a century later it reminds me of Berniebots. One of my favorite pieces, "Let's Go Together," starts at 8:14. The You Tube single version is an alternate take and kinda sucks.
Spoonful – Cream. Some of us defected to the dark side, leaving Top 40 for music our parents thought was dangerous drug music. Wheels of Fire-Live at the Fillmore fell into that category, with that psychedelic gatefold sleeve and Eric Clapton's searing guitar. I bought the cassette version and would drive dark country roads listening to it on my portable player that looked like Dr. McCoy's tricorder.

In-A-Gadda-Da-Vida – "I. Ron" Butterfly. Four of us high school misfits would sit around our dining room table solving the world's problems, listening to this with the record changer's overarm extended so it would play over and over. It likely drove the parents nuts, but they never let on. (Click on "I.Ron" if you've never seen The Simpsons' version.)
Lord Have Mercy On My Soul / When Electricity Came to Arkansas – Black Oak Arkansas. Way back when, before 24-hour news cycles and talk radio, most of the small AM stations shut down at 10pm. This allowed me to pick up "The Mighty 1090," KAAY-AM from Little Rock, Arkansas, playing longer tracks from relatively unknown rock artists: It's A Beautiful Day, Bloodrock, Spooky Tooth, The Flock, Love Sculpture, Sisyphus, Hawkwind, Jamie Brockett, and Black Oak Arkansas. Nothin' like a little redneck raunch 'n' roll to get you goin'.
China Grove – Doobie Brothers. The semester is over. All my earthly possessions are in the back of my 1973 Gremlin as I'm headed out of Champaign on I-74.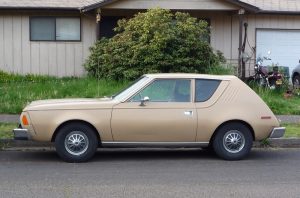 Whipping Post – The Allman Brothers Band. Nothing says hot summer nights in the South like the Allmans' music. The Fillmore recording segues into thirty-four minutes of Mountain Jam. It doesn't get any better than this.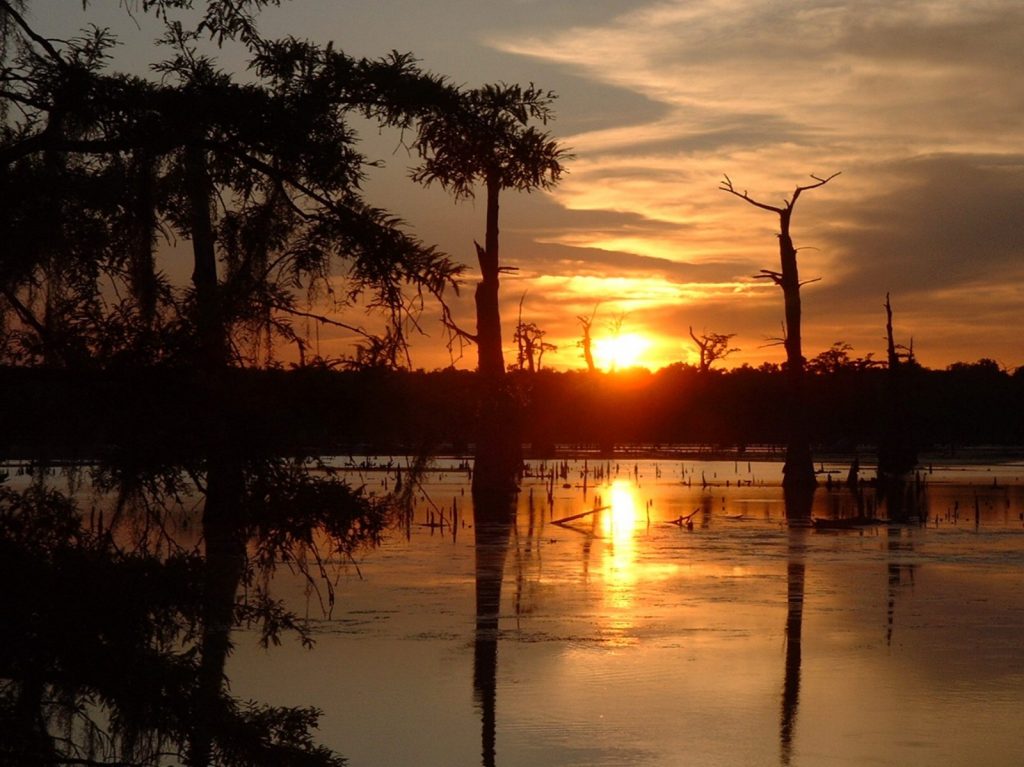 Us and Them – Pink Floyd. Every so often a remarkable work appears. Dark Side of the Moon is unarguably one of the best rock albums of all time; this is one of the best tracks. So light one up and have a great summer.
Gremlin Photo (C) Paul Niedermeyer, Curbside Classic. Used with permission.
Thunderstorm and Bayou sunset (C) Canstock Photo
Cornfield – my photo